Don't worry, it's not common knowledge. There are so many ways to mount a scope, the task can be quite daunting. The number one question we are asked is "Will this mount or base fit my gun?". When you are armed with the correct information, it can be very quick and easy to determine which mount will fit. By answering these questions, you will be guided through the process so you can successfully order the correct scope mount the first time!
Step 1: Who is the Manufacturer?
The manufacturer is the company who made your firearm. Common manufacturers are Remington, Savage, Winchester and Browning. There are lots of less common manufacturers out there but don't fret. If you have a firearm from a lesser known manufacturer, we still might have a mount for you.
Step 2: What is the Model?
Knowing the model of your firearm is very important when selecting a scope mount. Manufacturers make many different models and that helps narrow your search. One specific example is Savage Arms. The scope mount for an Axis is different than a mount for a 110 Ultralite. They are both centerfire rifles manufactured by Savage, but the receivers are very different.
Step 3: What is the Action Length?
Determine if your gun is Short Action (SA) or Long Action (LA). The action length typically depends on the caliber, here is a link to our FAQ on action lengths. > Action Length FAQ.
*Please note, there are more action lengths than Short Action and Long Action, those are the two most common*
Step 4: What is the Hole Spacing?
Many receivers are drilled and tapped. Measuring the space between the holes drilled in your receiver is THE BEST WAY to confirm if our mount will fit your application. Every scope mount we make has the hole spacing listed. We recommend comparing your measurement to what we have listed.
This will ALMOST guarantee a correct and proper fit. We say ALMOST because like every good rule, there are exceptions:
There are some extremely rare occasions when the firearm was drilled to the correct pattern, but the location of the pattern on the receiver is slightly off. This is most common on Mausers and other military guns that were not drilled and tapped from the factory. We have found a few rare examples from other manufacturers as well, but it is not as common.
Some firearms were drilled and tapped to an arbitrary pattern, whatever the gunsmith felt was appropriate at the time. This is especially common on home builds where prior mounts or rings were being cobbled together from whatever was available. Do not worry! We have undrilled mounts for many of our applications. In the event that your gun was drilled and tapped in a less than ideal manner, you or your gunsmith can use an undrilled mount.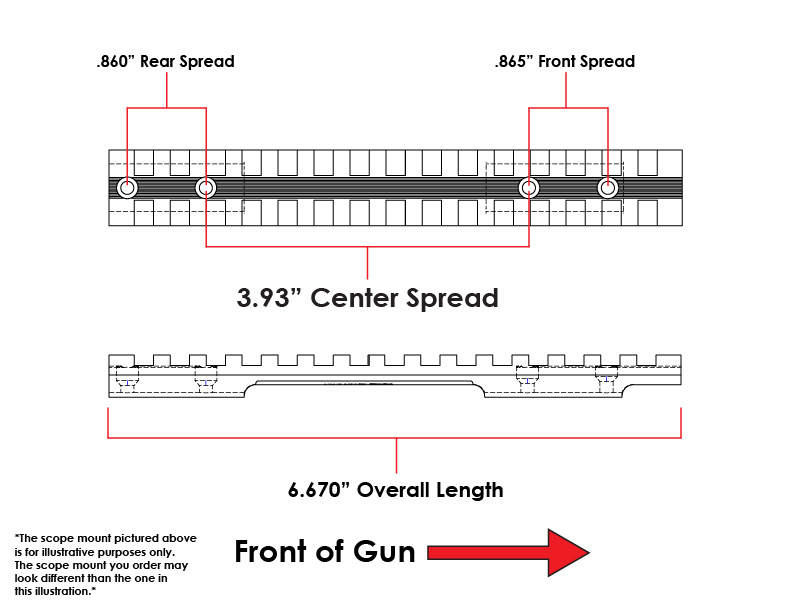 To confirm fitment please compare the hole spacing measurements on your receiver to the hole spacing measurements on our mounts page. The hole spacing measurements are listed under "specifications". If the hole spacings listed out match your receiver, chances are, this base will fit your gun. This is a sample of what is listed out on EVERY scope mount page, for your viewing pleasure!
Step 5: Finding the correct mount
Now comes the hard part - navigating our site. This is a little tongue-in-cheek. We are constantly updating information, our search and filters, but it still is tough to navigate; especially when you throw in industry specific terminology or spelling. We do our best to make it easy, but we manufacture OVER 150 DIFFERENT scope mounts. That doesn't include color variations or MOA!
Once you have verified the manufacturer, the model, the action length and the hole spacing, we highly recommend using the filter option.
The recommended filter process:
Start here:
https://www.egwguns.com/scope-mounts-rings/standard-rifle-scope-mounts/
Filter by the manufacturer (Firearm Manufacturer).
Filter by the model (Firearm Model).
Filter by the action length, if applicable (Action Length).
Filter by your desired series (Mount Series) - scope mount series information is found here.
Filter by your desired MOA (Minute of Angle) - MOA information is found here.


Hopefully this guide helps you find the correct mount for your application. If you have any further questions or comments, please let us know. We are constantly working to improve our products and processes.